Re: Happy Birthday Zankman Jack!
First off, thanks guys. You remembered. : D
@GP-El3
I
think
that that is how bizarros think; It so, I hope he had a miserable day!
Or, wait... I hate him.
I HOPE HE HAD A LOVELY DAY!
My power is limitless, to be completely honest.
Though, if it was not, I'd still wear this awesome, but, as you said, somewhat questionably-designed armor.
Questionably named as well - I always liked it more as "Night Wolf".
Either that or the name requires a hyphen in between "Knight" and "Wolf".
"Knight-Wolf".
[I am not exactly a big fan of PR, and I just liked his design, so I sticked with it. I did like the Mystic Force series, though.]
Again, thanks to you (and everyone else), but you put some serious effort in this thing. : D
_________________
monkeymon20 wrote:
Hell at this rate a rock could be the hacker.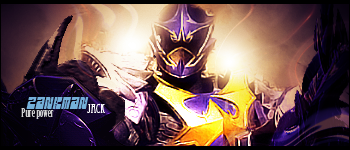 Tidz!
Check out my stripgenerator strip:
http://stripsrus.stripgenerator.com/